A bit of a break from what could be considered the usual theme of this blog to recognize several amazing heroes from World War II – Major General Maurice Rose and Corporal Clarence Smoyer. Both have a connection to Colorado, at least for today.
General Rose was educated in Denver and graduated from East High School in 1916. He lied about his age so that he could join the Colorado National Guard after graduating high school. Seventy four years ago today, General Rose was killed in action. He was the highest-ranking American killed by enemy fire in the European Theater of Operations during World War II. Rose Medical Center in Denver is named in his honor.
Corporal Smoyer, at age 95, is still with us. He served under General Rose and was in Denver today for a book signing – Adam Makos' latest book, "Spearhead." It was well worth the two hour wait to shake the man's hand, thank him for his service, and – a distant third on the list – receive an autographed copy of the book.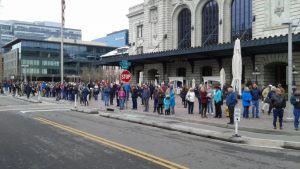 The plan was for Corporal Smoyer to ride in on a tank and stop in front of Union Station, the site of uncounted final "goodbye's" during the war. Eighty trains a day, the Union Station historian said, arrived and departed from Denver in the early 1940's carrying many young men on their way to war. Given it was a cold, wet, rainy-snowy day in Denver, the turnout was actually quite good.
Corporal Smoyer had ample escort!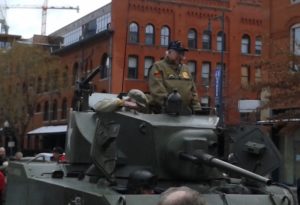 At long last, the Corporal arrived, mounted atop a WWII era Stewart tank. Although not the tank in which Corporal Smoyer went to war, it is the only civilian owned operable tank in Colorado.
It took a little time to help the 95 year old soldier down from his mount. With his feet on solid ground, Corporal Smoyer stepped over to the Stewart tank and hung his handicap parking placard on the cannon barrel. Well play, sir. Well played.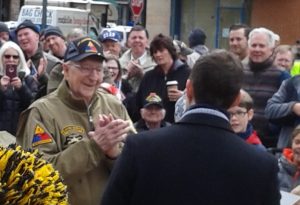 After a brief recounting of several stories and the unveiling of a commemorative painting to be hung in Union Station, he was off to begin signing copies of the book.
Today I shook the hand of a hero and am feeling profoundly grateful to Corporal Smoyer and all the men and women from his time that defeated a fearsome evil and preserved the Freedom of which I am a direct beneficiary.